NATALIE SANZACHE
Sculpted light-concrete luminaire for indoor and outdoor use. Unique and tailor-made creation for hotels, restaurants, villas... Poetry and magic for your interiors. Creations made in France.
Sculptor of light, lacemaker of matter, Natalie Sanzache creates shaped concrete luminaires, as poetic as they are light, works with shadows that awaken our imagination. The Concrete diverted from its traditional image, rounded the material becomes planet luminaire, meteor, egg, geode to pose or suspend, fine shell, coral. Mixing powders and pigments with instinct, the artist plays on the rough holes and flaws to make the mineral vibrate and provoke emotions. It also models delicate mesh shapes that it coats with concrete wires.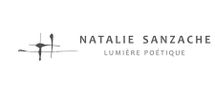 Add
Ateliers d'Art de France member
News
10/12/2021 20 mille lieues sous les mers.

Je vais présenter sur mon stand de M&O une installation sur le thème de 20 mille lieues sous les mers d'après le livre de Julle Verne. Une réalisation entièrement créé en béton évitant le cora8l et la roche

28/08/2017 Design week

Natalie Sanzache sculpteur de la lumière sur béton et dentelle de plâtre expose des pièces uniques réalisée en collaboration avec le graffeur Adrien Roubens. Elles sont visibles dans la Galerie Neazoé pendant la design Week au 4 Rue des Guillemittes Paris 4.