MISOKA
THE INNOVATIVE TOOTHBRUSH POWERED BY MINERAL COATING TECHNOLOGY REQUIRES ONLY WATER FOR USE
MISOKA is an Innovative Toothbrush cleans your teeth with only water which makes your teeth become highly resistant to the next dirt. This was first launched onto the market by Yumeshokunin., Ltd. in 2007. It provides a smooth polishing comfort, unlike anything you have ever experienced. Bristles powered by mineral coating technology -completely safe comply with the water quality in Japan's water to drink. As it only requires a single glass of water, it also contributes to people's health and to preserving the global environment.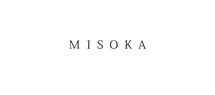 Add to selection
News
04/04/2019 -Sakura- New color for Travel Toothbrush

Spring time in Japan can only mean one thing, Sakura (cherry blossom)! We have released a new color "Pink", for TRAVEL TOOTHBRUSH MISOKA. At this time of year in Japan, there are full bloom of Sakura. Parks are packed with people who are enjoying Sakura with Japanese lunch box and favorite Sake. Have a fresh start by brushing teeth with this new color pink TRAVEL TOOTHBRUSH!!

02/04/2019 Fourisalone! Looking forward to see you!

We are going to be participate at Fuorisalone in Milan again! As many people are interest in MISOKA as an "eco-friendly product", we are focusing on the world of water. We are presenting MISOKA popup store "in the Water" at via Ciovasso 6, Milan 20121 Milan. Come to experience "in the Water". Take a chance to rethink our daily routine. I hope that you could discover the new perspective of MISOKA.

11/01/2019 Come and see us !!

This year we are appearing to the M&O. Last few years, we were standing at Hall 7 and 6. However, this year we're taking place at "Hall 2- Stand F52 / G51" the Smart gift section. What's Innovative about our toothbrush is not only becuase you can brush it with only water. Try the innovative toothbrush MISOKA and feel the smoothness unlikely you have ever experienced. Come and check it out !!!