MAISON POPINEAU
High-end original cushions, produced in limited editions and a design and lifestyle daybed with geometric pattern. 100% designed and manufactured in France. Bespoke and exclusive models for professionals.
Key pieces in interior decoration, MAISON POPINEAU's high-end cushions, produced in unique pieces or small series, add an exceptional and exclusive touch. Located in Paris, MAISON POPINEAU creates and produces luxury cushions for those who love beauty and trends, with respect to artistic creation and fine craftsmanship worthy of haute couture. This year MAISON POPINEAU presents "Belle de jour", a designed daybed with an original geometric pattern. 100% made in France and eco-friendly. Originals and exclusives creations for professionals.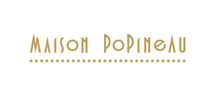 Add
News
20/10/2019 NEW COLLECTION "PAYSAGES"

A new creative spirit for this new collection of refined cushions With this new original Collection Maison Popineau remains faithful to its neo-patchwork inspiration, while continuing its creative work around geometric shapes and subtle combinations of materials and colors. This collection is inspired from trips or rides through various and fascinating landscapes who can draw attention as these c

20/10/2018 Guirlande the last model of the Jour de Fête luxury Collection

We are delighted to present you the must of the Maison Popineau collections: « Guirlande » the last model of Jour de Fête Collection.  Guirlande is a set of 7 original and modern cushions where each one is a unique piece as well as the all Collection is also unique. 7 geometric pieces, 7 colors and 7 associations of fabrics appears like a défilé haute couture in your room.