BEST BEFORE...
Attending MAISON&OBJET
06-10 September 2019
UNIQUE & ECLECTIC Hall 5A — Stands R61
We create the BEST BEFORE collections... from natural and biodegradable materials with expert craftspeople.
BEST BEFORE... objects are made by hand, using natural and environmentally friendly materials. Collections are designed by CORINNE MULLER et PIOTR OLESZKOWICZ and made by expert hands who perpetuate ancestral traditions.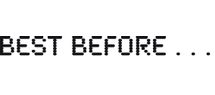 Add to selection