SOPHIA ENJOY THINKING
SOPHIA is a brand which strives to evoke the authentic and cultural storytelling of Greek designers through ethical trade and collaborative processes.
Our brand, SOPHIA, is a Greek word that means "wisdom" because ancient Greek wisdom is timeless and amazingly relevant today. Our collections "Eternity Today" and "Eternal" narrates stories inspired by the authenticity of ancient Greek heritage through fresh colors and designs. Combining eternity with modernity, every object is a gift from yesterday, to enjoy today and tomorrow. The new "Eternal" collection is an exclusive range of high-end tableware, fashion, and home accessories.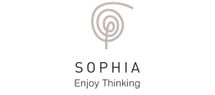 Add
News
11/03/2021 Sophia Enjoy Thinking - Lookbook 2021

The first link is our look-book for the three core collections Eternity Today, Eternal and Philosophy. All three of them enriched with new designs and new colors ! New inspiration and deco ideas ! Our journey from the moment of creation to decoration ideas which set a worldwide design trend.

11/03/2021 Sophia's New Curated Collection - Metamorphosis

Sophia's new "Metamorphosis" collection is created by designer Alexandra and her strong passion on design evolution. This exclusive thinking collection, reflects on a Cycladic statue head, by transforming it into a unique and authentic modern deco art. Painted by hand, one by one, evoking to make a statement by drawing out emotion.

02/10/2020 Be the Creator of your Own Collection!

A unique concept made for you especially from SOPHIA ENJOY THINKING! Choose between over 220 designs and 70 amazing colors! Get involved in the creation of unique hand-made design items from Greece. Authentic storytelling objects to add in your collection!