SOPHIA ENJOY THINKING
Sophia Enjoy Thinking. Storytelling, Authentic and Handmade.
SOPHIA, is a Greek word that means "wisdom" because ancient Greek wisdom is timeless and amazingly relevant today. Our collections, a wide range of handmade creations, narrate stories inspired by the authenticity of ancient Greek heritage through fresh colors and designs. From statues to cushions covers, wall art and dinnerware, every single item has character, emotion, a story to tell and a unique look thanks to authentic motifs and patterns. Combining eternity with modernity, every object is a gift from yesterday, to enjoy today and tomorrow.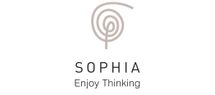 Add
News
22/06/2022 Catalogue AW22- Preview

We are more than happy to share to you a preview of our upcoming Catalogue AW22. New collections, creative design and innovative materials are some of the main themes of our inspiration for this year! Take a first look and stay tuned for completed catalogue on September! We will be in Maison Objet Hall 4, stand D36. See you all soon!

11/03/2021 Sophia Enjoy Thinking - Lookbook 2021

The first link is our look-book for the three core collections Eternity Today, Eternal and Philosophy. All three of them enriched with new designs and new colors ! New inspiration and deco ideas ! Our journey from the moment of creation to decoration ideas which set a worldwide design trend.

11/03/2021 Sophia's New Curated Collection - Metamorphosis

Sophia's new "Metamorphosis" collection is created by designer Alexandra and her strong passion on design evolution. This exclusive thinking collection, reflects on a Cycladic statue head, by transforming it into a unique and authentic modern deco art. Painted by hand, one by one, evoking to make a statement by drawing out emotion.