UN ESPRIT EN PLUS
A french company, unusual, inspired by nature!
Poetical, original, and innovative, home deco objects and lights, made in France. Simple materials inspired by nature, metal, wood, glass...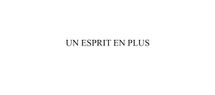 Add to selection
News
04/01/2018 Candle zinc pic & pic

Once they are lit up, these church candles become very beautifully transparent. With its Pic & Pic, they become so funny !!

04/01/2018 S Hook

Thanks to the small and big hooks, how easy it is to hang everything, everywhere! Two sizes : 28 and 96 cm high

04/01/2018 Straw basket

Timeless! Our best seller !!