CUMULUS BY FRANCOISE PENDVILLE
Cumulus by Françoise Pendville - The Urban Traveller Concept
The Cumulus raincoats are refined and light. They are part of an active, urban and dynamic lifestyle whilst still being totally feminin ! With it clever design, the Cumulus collection fits into our busy lifestyle as it folds up and fits into a small bag. An on-the-go product! Ethically manufactured, conceived as a durable product. Belgian design, italian fabrics.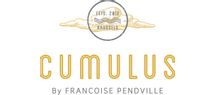 Add
News
16/01/2020 Cumulus - New Colors

CUMULUS – the Story behind In Belgium rain forms part of all the seasons! For the past 20 years Françoise Pendville has designed coats, jackets and raincoats which have become the trademark of her collections. In 2012 Françoise decided to launch a new line of coats which can be worn throughout the year. Francoise's love for exquisite materials are again visible in this new line named CUMULUS.

06/09/2018 Bob Loo

Rain hat for women, in polyamide that folds on itself. Super convenient for travel and leisure

03/09/2018 ALIZE - special for bicycle

The Alize was created at Studio FP with the collaboration of Ludovica Imperato, Italian designer. Chic and elegant in its gray-silver color. Unique size.