DE VECCHI MILANO 1935
The silversmith workshop, Atelier De Vecchi, was founded by Piero De Vecchi in 1935.
A sculptor and engraver, at a young age he participated in Futurism which shared the constant research of the dynamism that he transmits in his productions. The design of the its objects, applied to the silver artwork, was contaminated by the collaboration of leading architects such as Gio Ponti and Caccia Dominioni.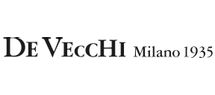 Add to selection