L' ENSOLEILLADE / VALDROME
Made in France. Exclusive designs fabrics. New 2017: Collection of round coton and coated placed design tablecloths . Distributor of the Valdrôme Brand.
French manufacturer of table linens and accessories. Jacquard tablecloths, coated cotton tablecloths, plaids, table runners and cushion covers, tea towels, purses... Specialist since 20 years in the manufacture of French fabrics (Indienne, Provençal...) we have expanded our collections in recent years to satisfy a wider range of customers. Decoration and contemporary designs, seaside, stripes patterns... Since 2016: partnership with STOF for the distribution of the Valdrôme brand.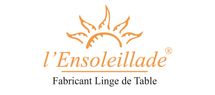 Add to selection