SADHU HANDMADE NATURALS
SADHU is a range of luxurious and exquisite pashmina scarves, shawls and throws hand-spun and hand-woven in Kashmir, India. The brand was founded by New Delhi based textile designer Subhabrata Sadhu in 2011.
Sadhu collection of scarves and stoles are inspired by the glorious heritage of Kashmir and its unparalleled beauty. They showcase the 2000 year old legacy of Pashmina as narrated by Kashmiri weavers, the seekers and keepers of this ancient skill. And they encapsulate in their design, the pristine beauty of Kashmir and all her mystic brilliance. Classic designs that exude elegance and sophistication are the hallmark of SADHU. The tasteful interplay of colours, the asymmetric lines and traditional weave imparts a unique and timeless quality thus transforming ethnic weaves into luxury offerings.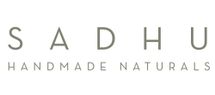 Add