INIS THE ENERGY OF THE SEA
INIS – the fragrance that captures the energy of the sea.
A sparkling, clean fragrance that captures the coolness, clarity and purity of the ocean, INIS THE ENERGY OF THE SEA is a boutique brand favorite around the world. Light and invigorating, the scent of Inis has an extraordinarily wide appeal to all ages, and to both women and men. The range includes fragrance, plus seaweed enriched body care and home fragrance collections. INIS is the Irish word for island, and the fragrance was inspired at Roundstone Beach on the wild western coast of Ireland.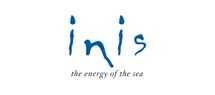 Add to selection