EBB & FLOW
Attending MAISON&OBJET
17-21 January 2020
TODAY Hall 6 — Stands I67
Our designs embody the truth that lighting and lamps are not just functional objects, rather they alter the space we live in.
EBB & FLOW designs and produces decorative lighting, with all designs created by owner Susanne Nielsen. Using classic British and Nordic style as a starting point combined with a passion for the basic materials glass, crystal, metal and textiles, the result is a style that infuses lighting and glass with a fine airy simplicity and a modern edge and depth of color. All our lighting designs are made to bring warmth and joy, translated through colors and shapes they inspire and offer lasting beauty.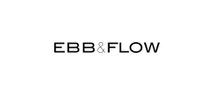 Add to selection
News
07/01/2020 EBB & FLOW wins their first Iconic Award

For the first time, EBB & FLOW has been awarded the prestigious design prize, Iconic Awards: Innovative Interior 2020. The title was awarded for EBB & FLOW's new, beautiful and functional Horizon ceiling/wall design.

07/11/2019 EBB & FLOW is launching an inspirational lookbook!

EBB & FLOW is introducing its first lookbook, showcasing the newest designs and colours in the collection along with our classic designs. Styling is a way of engaging the senses, of being bold or restrained, contrasting conventions or going for a subtle tonal bliss, there is room for all.

27/08/2019 Discover new Horizons

Rays of light shine through the transparent glass to light up any wall or ceiling. The new Horizon is clearly a statement lamp with character. The shape is edgy, infinite and wide – it's a lamp designed to create attention with its unique look. Horizon is suitable for lighting solutions in private homes as well as hotels and restaurants.