MAKERS.STORE BY DESIGNERBOX
Makers.store offers a platform of more than 3 000 designer products for pro use, short circuits and fair prices. Makers.store acts as a trusted intermediary for professionals on their projects.
With over 300 designer makers and more than 3 000 products, Makers.store offers the richest range of new products in Europe. An offer of products in short circuits, carried by talented designers, adapted to professionals. In line with its desire to support creation and allow professionals to have access to a professional offer at a fair price, Makers.store, via its platform, acts as a trusted intermediary and allows you to buy exclusive and quality objects directly and at the best price.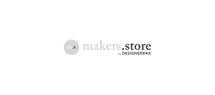 Add
News
02/09/2020 Who's in, who's out?
02/09/2020 Celeste lamp

Designerbox#47 by Samuel Accoceberry

02/09/2020 Elo

Elo plays with appearances by putting light in a bottle and abolishing the boundaries between inside and outside.