MICROPLANE INTERNATIONAL GMBH & CO. KG
MICROPLANE. The Grater. The Original. Blades made in USA.
It all comes down to one thing – MICROPLANE kitchen tools are extremely sharp. The tiny razor-like cutting edges cut food without ripping, tearing or shredding which preserves and intensifies the food's aroma and flavor. While most manufactures rely on clumsy metal stamping to produce inefficient cutting edges, MICROPLANE creates precise, razor-sharp teeth utilizing their signature chemical etching process.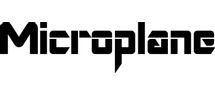 Add