TIM&PUCE FACTORY - PARTY PRO
TIM&PUCE FACTORY is a new French brand of trendy paper decoration for all happy moments in one's life.
TIM&PUCE FACTORY, is the story of a brand created by a mum and a dad who work a lot: they missed their children and decided to dedicate their new brand to Timothée and Capucine. TIM&PUCE FACTORY was born, and is made of many happy moments, joy, dreams and children laugh.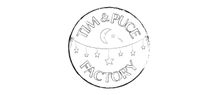 Add