HAPE
Founded in 1986, HAPE is the leading brand of wooden toys, and lives through its motto: "Love play. Learn".
Founded in 1986, HAPE, from the initials of its founder Peter Handstein, continues to perpetuate its motto: "Love play. Learn". Believing that learning happens through play, our toys are made to inspire play, learning, and exploration of the world we live in. Convinced of our eco-responsibility, you will be able to discover our range from our bamboo forest; our Japanese rice toys, our plastics made from sugar cane, our recycled plastic textiles, our packaging printed with soy ink and the list goes on and on!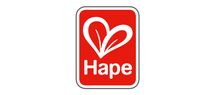 Add
News
18/05/2017 1st Prize at Nuremberg toy fair 2017

1st Prize at Nurember toys fair 2017 in Preschool category.