CARB - CASA AGRÍCOLA RUI BATEL
High quality products, unique food and stunning landscapes! Producers from Douro Superior - Portugal.
CARB has its production on Douro region, the oldest demarcated wine region in the world classified by the Unesco as part of the world's cultural heritage. CARB produces and markets local biological food products (olives, extra virgin olive oils, Almonds and wines), recognized globally by its exceptional and unique features.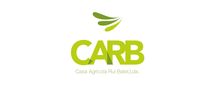 Add to selection