CO33 Exklusive Betonmöbel
"The Timeless Art of Concrete."
In 2014 Gregor Uhlmann created the brand name CO33 + in Thuringia – high-quality concrete and concrete furniture accessories for stylish living ambiance. The concrete furniture is made with German craftsmanship of various trades. Each exclusive concrete product is unique. We want to attract private buyers as well as hotels, restaurants or other public spaces.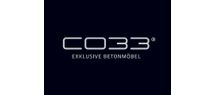 Add to selection