FRANCOIS DOUCET CONFISEUR
A legend from Provence. Exceptional products: coated dried fruits, gourmet pâtes de fruit (French fruit jellies), coated fruits.
FRANCOIS DOUCET CONFISEUR established this company in 1969 in the heart of the Provence region. Today, FRANCOIS DOUCET CONFISEUR in Provence has become a successful artisan confectionery business. The range focuses on 3 product streams: the pralinés, the fruit jellies and the coated fruits. Tradition, quality and creativity have been instrumental in building this company's great reputation.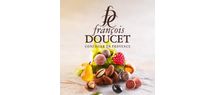 Add