FLORENTINE KITCHEN KNIVES
Designers and makers of high-end custom and production cutlery.
Founded in 2012 in Tel-Aviv, FLORENTINE KITCHEN KNIVES quickly became a household name in kitchen throughout western Europe thanks to their unique designs. Now working out of their Barcelona studio, FLORENTINE KITCHEN KNIVES are designing and manufacturing custom cutlery for restaurants across the globe as well as their own line of high-end Kitchen knives. FKK's MO is to combine high-tech precision with Hand-made skill and quality materials to achieve desirable, long lasting object.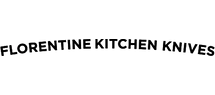 Add to selection