WOLL NORBERT GMBH, GERMANY
WOLL extraordinary cookware. Professional quality cast aluminium cookware made in Germany.
For Norbert WOLL GmbH "Made in Germany" is a commitment to Germany and to the art of German engineering. Since 1979 our owner-managed business have produced professional-quality, cast aluminium cookware. Customers from all over the world value the products that we manufacture and it is your enthusiasm for our professional cast aluminium products. Your untiring commitment and your loaylty that make us successful as a team in over 60 countries.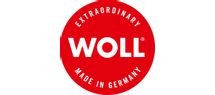 Add