PARFUMS DE LA BASTIDE
Founded in 2014 in AIX EN PROVENCE by 2 niche brand professionals, PARFUMS DE LA BASTIDE creates, manufactures and distributes natural and authentic perfumes, home fragrances and perfumed soaps, made in Provence.
We want to share the PROVENCE that we love, the one with terroirs still preserved, between the Luberon and the Mediterranean Sea, the one where you can feel the PARFUMS DE LA BASTIDE spirit, where tradition meets contemporary, the one with authentic places and lifestyle : moments of conviviality spent in the family bastide [mansion] where time seems suspended for a moment. We want to be part of those who preserve NATURE. Our fomulas are preservative free, dye free, UV filter free. Our manufacturing processes respect our environnement : ARTISANAL, LOCAL and PRINCIPLED manufacturing.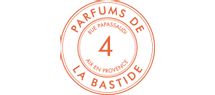 Add
News
20/11/2020 article goutsetpassions

à lire sur https://www.goutsetpassions.com/mode-et-maison