CONTENTO
Present at Maison&Objet Fair
From 08-12 September 2022
HOME ACCESSORIES
Hall 4 — Stands A26
CONTENTO is a German brand who manufactures "Barbaydos" - glass straws and "Matteo" floor mats and placemats made of vinyl. As a specialist we can offer a big range of products for both types of products.
Please have a look at "Barbaydos" - a large range of glass and metal drinking straws which come in wonderful packaging for retail. We offer transparent and color glass straws which are manufactured in our factory in Germany. You can choose between different lengths and diameters. OEM welcome! The other product range is "Matteo" - vinyl floor mats and place mats which are also made in Germany. They are easy to clean, very strong and ideal for inside and outside. Wen can produce any shape and size. Therefore, OEM is also welcome!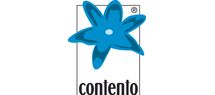 Add
News
05/01/2021 Contento sells now the beautiful mats with designs by Maison Lorrain

Maison Lorrain is a famous brand for beautiful designs in Canada. Contento has recently started a cooperation to market some of their products in the European market. The Maison Lorrain designs are printed on placemats, floor mats and coasters.

31/08/2020 Mouth nose mask

Reusable/ Washable (60° C)/ 100 % Polyester / Not medically certified/ Personalization possible/ Please wahs the mask before wearing it for the first time.