LE BOIS D'YLVA CREATION CRAKŬ
Constantly in search of beauty, Le Bois d´Ylva Création cRAKŬ pieces seek to embellish your interiors, through elegance and sobriety of form. Original designs by LE BOIS D'YLVA.
The originality of Natacha Heitz's creations is based on the cRAKŬ texture. She creates clean shapes, playing with contrasts and polychromy. She then works her pieces in a fire to create a unique effect. Working in direct carving, she seeks balance and harmony between dissonances. The workshop is eco-responsible, with certified local wood, labeled workshop, and valuation of all the material. His workshop, Le Bois d'Ylva Création cRAKŬ, offers decorative objects, vases, murals and contemporary sculptures. Unique piece and limited edition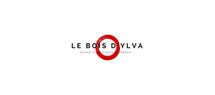 Add
Member of Ateliers d'Art de France
News
19/01/2021 Truculentes analogies exhibition

Woodworking is part of the history of Queyras. But its interpretations are varied. Between yesterday and today, the Musée du Soum invites you to resonate between local tradition and contemporary creation. The Swiss pine, the common thread of this story, makes the link in this exhibition where techniques intersect, eras respond to each other, colors intertwine.