FLEUR DE SOLEIL
FLEUR DE SOLEIL is a textile editor. We create pretty wipeable cotton to make daily life poetic and colorful : practical doesn't mean boring ! 100% Made in France.
Our collections are created in Paris. Our fabrics are woven, printed and coated in Les Vosges. Our production is eco-friendly and we put an extra care of not using any toxic ingredients to protect you, your family and our planet. Our orders are carefully prepared by a workshop which employs disabled adults in the West of France. Our fabrics are sold by the roll or manufactured: wipeable tablecloth, runner, placemat, hold-all, curtain, cushion. 100% Made in France, eco-friendly, toxic-free and socially responsible that is our promise.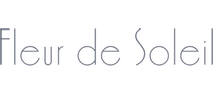 Add
News
02/05/2017 Salon Vivre Côté Sud du 2 au 5 Juin - Aix en Provence

Fleur de Soleil sera au salon Vivre Côté Sud du 2 au 5 Juin, au Parc Jourdan, à Aix-en-Provence. Venez nous rendre visite sur notre stand T.74 pour découvrir notre collection de coton enduit!