FLOKATI NATURAL WOOL PRODUCTS
Cozy and stylish Handmade wool products: slippers, blankets, yoga mat, healing belts, etc.
We seek to make your living cozy, healthy and stylish. Flokati is a small sewing company in Lithuania since 2000. We produce wool slippers, blankets, yoga mats, mattress covers, children products, healing belts, etc. We export our products worldwide and we are always open for new long-term partnerships. Become a Flokati partner! The quality of our products is our priority, so we use only qualitative textile and work with reliable textile suppliers only.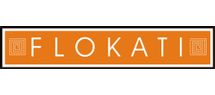 Add