HERING BERLIN
Style-defining design & excellent craftsmanship, carried out by masters of their trade in Germany.
Since 1992, Hering Berlin has stood more than any other brand for high-quality, handcrafted porcelain with a clear design language and innovative decorations that reveal the essence of this unique material. Founder and product designer Stefanie Hering, herself a trained master ceramicist, constantly explores the limits of the feasible in her designs. Her designs may look simple, yet they require technically complex processes to implement; this is why she personally selects and trains every single artisan involved in the production of Hering Berlin porcelain, often for years. Only in this way i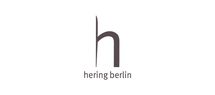 Add
News
05/03/2021 EMERALD – by Stefanie Hering Collection launch for the "Spring Table" online TrunkShow

Emerald. It is the colour of spring. Of new beginnings. Of hope: deep, rich green. Porcelain designer Stefanie Hering spent months experimenting with a glaze that shimmers in vibrant shades of green, from emerald to bottle green. She will be presenting the first objects from this new collection, Emerald, from 02-09 March 2021 as part of an online TrunkShow.

29/01/2021 Hering Berlin Valentine's Cups - Special Edition 2021

This year, the gesture for Valentine's Day carries extra weight: that's why Stefanie Hering has now launched an unusual range of inscribed Valentine's cups. The cups each bear a letter from A to Z or a number in rich cobalt or a special character in gold. A single vessel, for example, makes a lovely gift for a name cup with initial. But you can also mix two or more mugs to create small messages.

21/01/2021 "Stefanie Herings Favourites" Style worlds from a designer's hand

With "Stefanie Herings Favourites", the Berlin designer presents a series of specially curated table settings that could not be more surprising. They provide a deep insight into the internationally renowned designer's personal sense of style, her creativity, and also into places to which Hering feels particularly attached.