ZENZA
The ZENZA collection reflects a traditional spirit, yet in a modern style. ZENZA is a specialist in ethnic chic handmade and unique home accessories.
Since 1993 ZENZA designs atmospheric lighting. During these years we became especially famous with our handmade lamp collection and we garnered attention from designers, stylists and other interior professionals worldwide. Silver-plated brass with a delicate hole pattern is our signature. Not only does it create atmospheric light, it also dresses your walls in an amazing shadow pattern. We are very grateful to say, we produce our handmade lamps according to our high ethical standards.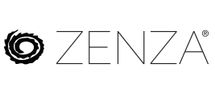 Add
News
03/02/2021 Table lamps from the potter

Originally, this type of pottery was made by woman only, in the foothills of the Atlas mountains in Morocco. Zenza created these practical table lamps inspired by that style. Hand painted motifs in red and ochre are abstract and ancient, often symbolising fertility and protection. The lampshade is made from a rough linen for a pure and sturdy style. It fits all kinds of interior.