GIANFRANCO FERRè HOME
A perfect combination of contemporaneity and classic elegance.
Contemporaneity and classic elegance are the essence of the collection. These values are the legacy of Gianfranco Ferré, so-called "the architecht of fashion", and they have been implemented in two complete lifestyle made of furniture and accessories. The assertive style along with the quality of material and the care for details make Gianfranco Ferré Home collection thoroughly unique: never the same, yet always unmistakable.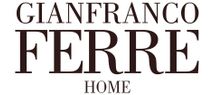 Add to selection