LITOKOL
Innovative range of solutions for wall and floor coverings in homes, offices and shops. With "SpazioContinuo", surfaces become matter in their purest form, transforming space and enlarging forms and volumes in all types of environments.
Very short application times, easy to use and endless possibilities for personalisation thanks to more than 2000 colours in the "NCS" and "RAL" range, represent the stand-out qualities of "SpazioContinuo" in this competitive market. "SpazioContinuo" proposes two ranges for floors (which can also be applied to walls): "SpazioCemento" and "SpazioResina", and two ranges specifically for walls, "SpazioChiaroscuro" and "SpazioMetallo", freeing the imagination of all limitations and making room for endless creativity.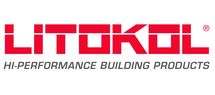 Add
News
23/01/2019 Litokol
23/01/2018 AU SALON MAISON ET OBJET 2018, LITOKOL INNOVE SUR TOUS LES PLANS

Synonyme de qualité élevée sur le marché des mortiers de jointement, Litokol offre à travers Spaziocontinuo une réponse à ceux qui préfèrent des solutions continues.