GRAZIANO FRATELLI FU SEVERINO
Top quality jacquard house-linen (bed-linen, table-linen, bath towels) made in Italy, produced in our factory since 1841. Our company is specialized in high-end jacquard.
Our company, founded in 1841, produce in Italy in our weaving mill that is composed by 46 looms, all over jacquard fabrics, both in pure linen and in pure cotton Makò. We use these fabrics to make bed sets, blanket covers, light and heavy quilts in a lot of sizes according to customer's request and also wide range of pure linen towels with fringes knotted by hand, table linen, kitchen linen, (towels and aprons) and needlework collection (fabrics and ready made articles for embroidery). We create exclusive fabrics "private label" for any type of customer, following the requests.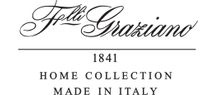 Add