MEELOA
We create furniture that matches our contemporary interior: light and comfortable. MEELOA's furniture is made with durable and quality material.
MEELOA is a brand imagined and developed by French designers. Our vision of design is based on modern Parisian life style. Our furniture is made of light curves that bring a touch of originality to any interior. Light curves and fresh materials in the spirit of time. Minimalist designs combined with vibrant colors. Making your daily life simpler and more lively. Reinforced ash wood base and full plywood seat. Fabric resistant to abrasion and solid seams. An eye for detail: aligned seams, regular foam curves and precisely cut wood. Furniture designed to last.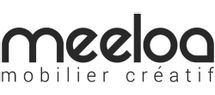 Add
News
18/03/2021 meeloa is getting a makeover in 2021 and for that… we are liquidating our stock !

2021 is a turning point in the life of meeloa, we have decided to give our brand a facelift and a different image but for that we will have to wait until September 🤐 You will therefore find all our collections at prices up to at - 60%, yes yes - 60% 🤩 This is where it happens -> https://boutique.meeloa.com

03/04/2020 Made in France

Depuis sa genèse, meeloa était composée d'une équipe française mais avec certains de nos sous-traitants basés à l'étranger. À ce jour, nous avons intégrés dans nos locaux une majeur partie de la production nous permettant ainsi d'obtenir le Made In France. Cela nous permets maintenant d'être bien plus réactifs en terme de délai et de pousser encore plus loin la personnalisation de nos sièges.

04/01/2018 meeloa at M&O in January 2018 !

We will come back to the exhibition for the January 2018 edition. Find us in hall 3, booth C117 !