DelightFULL
The vision of DELIGHTFULL is based on the best combination of design and high quality art. Our mid-century pieces not only illuminate interiors but also add an oppulent design to space with its unique shapes.
DelightfFULL's Lighting reflects a personality, a frame of mind and strong emotions are present in each detail. Working with our hands we transfer our passion and devotion into everything we make and thus our masterpieces are born. Share soul and heritage with the world... A DelightFULL World!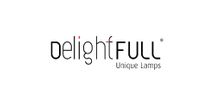 Add to selection
News
19/06/2019 Floor Samples Brings Matte Black Lamps

The Miles table lamp is a handmade and customizable mid-century piece that can be an essential element to any modern living room that is looking for a piece that brings that elegant and sophisticated design, while also being a beautiful tribute to one the of most important influencers of the 20th century.

14/06/2019 Put Together An Elegant Entryway Décor!

Add some plants and family frames on your sideboard, and of course, you cannot forget about the lighting fixture. Mid-century design is very trendy this yeaar, and this calls for DeligthFULL! Ike Lighting Family is one of the most requested pieces of the brand. The piece was inspired by Ike Qebec, and it has a Scandinavian design that will transform this lamp into one of the most versatile pieces!

13/06/2019 The Best Classic Home Design Ideas

This is Empire Snooker Suspension. Created with crystal glass and brass, finished with gold plated, this magnificent suspension is capable of giving a luxurious and glamorous look to any space. This product is a true jewelry for your decoration, creating a sophisticated and unique atmosphere.