COVET HOUSE
Bespoke services are provided by a team of highly trained designers spread in more than 100 countries.
COVET HOUSE offers a curated selection of contemporary designs from the world's top furniture, lighting and accessory brands, together with unique marketing tools, with the clear mission of boosting the creativity of the interior design community. We want to create an environment where Luxury Brands and Interior Design professionals work together with one purpose in mind: To inspire the world. How? By helping them both through every step of the creative design process. From the early stages of an interior design project, to after its completion, from Design to Marketing.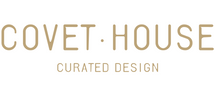 Add
News
26/01/2021 An $8,5 MILLION MODERN CLASSIC VILLA CREATED BY COVET HOUSE

Covet House has a new trick up its sleeve – a 550 aq Modern Classic Villa in St. Petersburg, Russia. With 9 different rooms, the secluded villa is the first of a series of luxury houses created by the luxury brand with the purpose of inspiring professionals and design lovers to new rights in this era. Read more at https://bit.ly/2YiSIfw

26/01/2021 COVET INTERNATIONAL AWARDS

After a successful first edition, we're back in full force. The world needs inspiration and YOUR talent more than ever. We are looking for interior design projects and product designs that clearly show how design modernizes craftsmanship, by reinterpreting and valuing the traditional arts & crafts. Submissions are now open at https://www.covetawards.com/

06/10/2020 Halloween Special Issue

Autumn has arrived and with it comes the season of scares and spooks. We are entering in a festive season from October to December, and the nightmare before Christmas is upon us. Costumes, spooks, candy and haunted houses, a lot of thought and planning goes into providing the perfect spooky yet refined ambience.But that doesn't mean that the decoration for this season has to be a nightmarish task.