COVET HOUSE
Covet House is the most powerful tool to enhance creativity among design community. We aim to encourage brands, products and professionals to work together with one single purpose: to boost inspiration around the world.
The project was created by Designers and Marketeers with a unique insight on the Interior and Product Design industry and a large experience acquired through their work in projects all over the world. Covet House inspires and delivers design to all design enthusiasts. We love challenges. We dream about gather the greatest thinkers, practitioners, retailers, press or just design lovers for the greatest celebration of design. A new design era has come and you are invited to step in.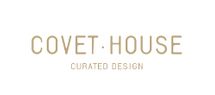 Add to selection
News
14/06/2019 COVET HOUSE AT MAISON & OBJET 2019

Covet House participates every year in the house & object fair. We will be there in September to welcome you again.

03/05/2019 Why Covet House?

Because Covet House offers 100% handmade products, bespoke and custom designs, a short lead time, a stock and outlet list and, at last, because we are present in the most influential cities out there. Covet House is definitely a powerful tool to boost creativity in the interior design community. If you don't believe us, keep reading – a new design era has come and you are invited to step in.

02/05/2019 COVET HOUSE SHOWROOMS: CURATED DESIGN EVERYWHERE

Curated design is synonym with Covet House and that means an intense desire to be the most powerful tool to boost creativity. Our determination has led this concept into far destinations such as London, Douro, Paris and, most recently, NYC. The purpose? To be closer to you and be able to create an environment where luxury brands and interior design professionals work together to inspire the world.