GOMMAIRE (G. CLEYBERGH)
GOMMAIRE is a newly founded Belgian brand that epitomises quality. The timeless designs of decorative object and both indoor and outdoor furniture are unique and organic with glass, terracotta and reclaimed teak as its leading materials.
GOMMAIRE is a Belgian brand that was founded in 2015 by a creative team with a remarkable know-how gained over many years of experience. We give a new meaning to the term organic living by creating a total concept that fits into every scenery and strive to offer all that is needed to create ideal indoor and outdoor spaces. Complementary to our furniture we offer an assortment of basketry, glassware, candles and textiles as well as a delicate collection of lamps to set the mood to every scene.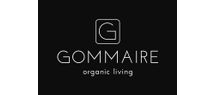 Add
News
03/09/2020 New website with virtual showroom: www.gommaire.com/showroom

Visit our new website with virtual showroom and discover step by step all our new products. www.gommaire.com/showroom