ROYAL STRANGER
A collection of exclusive furniture that explores new frontiers between what can be considered art and design. This collection strengthens ROYAL STRANGER's identity and it pushes new boundaries in technique and design.
Royal Stranger is an exclusive furniture brand which is determined to offer unique pieces of art and design. By making a fusion of the design, art and the best work of craftsmen, we strive to offer the best state of art in handmade furniture. The team in Royal Stranger works daily to create pieces with a deep meaning that represent values such as passion, function, aesthetics and know-how. Values that represent the DNA of Royal Stranger.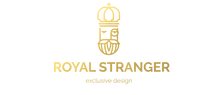 Add
News
07/08/2020 JASMINE SWIVEL SOFA
13/01/2020 MA'AM COLLECTION

A WOMEN'S WORLD A Tribute to all the Super Women of the World!