PORCELAINE DU LOT VIREBENT
Today, VIREBENT PORCELAINE DU LOT is one of the last remaining porcelain manufactory located in France.
Members of the VIREBENT PORCELAINE DU LOT family have been widely recognized architects and ceramists in Toulouse since the 18th century. One of the trademarks of this traditional company is that it works with the three main group of ceramics, stoneware, earthenware and porcelain, by using essentially 3 techniques: casting, jiggering, and pressing. VIREBENT won several awards in recognition of its know-how. Some pieces produced at VIREBENT PORCELAINE DU LOT are now part of the permanent collection of the museum of decorative arts in Paris.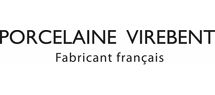 Add
News
19/01/2018 New Collection 2018

Collection of stoneware, porcelain lithophane plates and vases Collection "Louis XVI" Collection "Stone" Collection "3D"