PORCELAINE DU LOT VIREBENT
French porcelain manufacturer. Creates designer collections for the restaurant business. "Patrimoine Vivant" corporate label.
Founded in 1924, PORCELAINE DU LOT VIREBENT is one of the rare French ceramics manufacturers whose products are still entirely designed and developed in France. The company's craftspeople excel in all three principal ceramics, earthenware, stoneware and porcelain. Mastering traditional techniques, they enable designers to reshape everyday objects and invent new forms.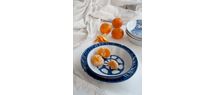 Add to selection