TIENDA ESQUIPULAS
Present at Maison&Objet Fair
From 09-13 September 2021
HOME ACCESSORIES
Hall 5A — Stands M25
Human objects. The legends and popular cultures of Mexico and Mexican inspired offered in a large range of unique decorations and accessories.
Handmade, kitsch and creatives, ethnic and ethical. To dress, play, party, make or embellish an interior with a very personal and colorful touch. To offer as to keep preciously.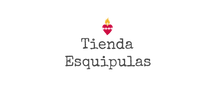 Add
News
25/06/2021 Tienda Esquipulas, eco-responsible decoration and accessories brand

Tienda Esquipulas is committed to controlling the materials used in the manufacture of the products it sells to promote productions from recycled materials, upcycling or compliant with environmental standards. Four eco-responsible product lines have been created: ex-voto hearts, Nichos, bags and fabrics.

30/08/2018 Cardboard Stall and graphic creation : Tienda Esquipulas brings their values at Maison & Objet 2018

Exhibit without wasting : the choice of an eco-responsible material - Create and make by hand: from imaginary to reality. From its conception to its fabrication the stall Tienda Esquipulas sign the engagement of the mark in the preservation of the environment and the trip in the popular cultures. Entirely in 100% recycled cardboard, designed and hand-painted by designer Margaux Carpentier.

06/09/2017 New product : set of melamine tableware that tells the famous guatemalan worrydolls story to make sweet dreams

Set of melamine tableware (5 pieces in a tiny cotton pouch) to prepare a sweet night to children telling them the legend of the famous worrydolls ("quitapenas") of Guatemala, these magic dolls which erase worries and hassles during sleep.