A+Z DESIGN® by Geneviève Levivier
At the cross-roads of art, design and innovation, the award-winning textiles of A+ZDESIGN® by Geneviève LEVIVIER offer a wonderful visual and tactile experience. These contemporary creations and design objects procure a refreshing poetic atmosphere.
Recognized and awarded internationally for their innovative, ecological & fair-trade textiles, the belgian studio A+ZDESIGN® by Geneviève LEVIVIER combines the best of technology and artistic craft-work. Specialized in the creation of hand-crafted supple materials ranging from tapestries to decorative art, the studio produces objects in limited number or one-of-a-kind. Having supplied creations to well-known Maisons de Couture since 2008, they offer today their high-end know-how to decorators.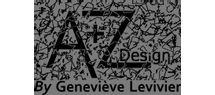 Add to selection