LES LUMIÈRES DU TEMPS
LES LUMIÈRES DU TEMPS produces diverse collections of fragrances.
LES LUMIÈRES DU TEMPS propose various collection of scented products: perfumed candles, reed diffusers, room sprays, scented gift boxes… Our candles are hand poured, in our workshops in France, with blend of natural waxes and fragrances from Grasse of very high quality. With wicks 100% cotton, our candles have long and clean combustion, and ensure a perfect fragrance's diffusion.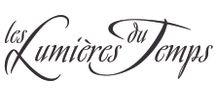 Add