SAMESAME - UPCYCLED GLASS PRODUCTS
SAMESAME is an attempt to show a new creative way to alternative product and production thinking. But first of all it's a tribute to the increasingly forgotten trade of glass blowing.
SAMESAME is a collection of reformed glass objects, created by Cornelius Réer in his glass manufacture and produced from commercially available glass bottles. Those industrially produced bottles are being revalued both functionally and esthetically by means of traditional craftsmanship. Thus, the distinctive features of the industrially produced bottles are being preserved while their esthetics become contradictory: A high-value individual item originates from a standardized mass product.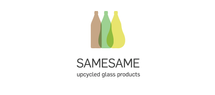 Add