CHIC ANTIQUE DENMARK
When the past creates the future!
CHIC ANTIQUE was founded in Denmark in 2005, and today the business is still building upon the dream of letting unique old items from the past have a new future. CHIC ANTIQUE is offering a wide range of vintage interior. The style is both unique and rustic mixed with French romance. The items vary from kitchen, bath, garden, furniture and seasonal items to textiles, all of it designed in-house. The new collection is among others filled with a multitude of Easter eggs in exquisite colors, elegantly decorated with gold and glitter. New and lovely garden furniture will be presented at M&O too.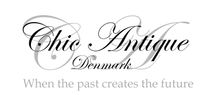 Add to selection
News
08/01/2020 New SPRING/SUMMER 2020 collection - Endless Summer...

We are SO proud to present our new SPRING / SUMMER 2020 collection, Endless Summer, which will undoubtedly bring out memories of wonderful sunny days in the garden and warm evenings on the terrace. This spring we have completely turned up the romance, and the Endless Summer collection contains a wealth of beautiful vintage products that you cannot be without!

19/11/2019 Pre-Spring 2020

The PRE-SPRING 2020 collection is bursting with the most wonderful spring décor for the home and garden. The collection comprises the most wonderful and natural materials, and throughout the entire collection you will sense a deep respect for nature combined with our focus on quality and unique details. The products are authentic and handmade.

20/08/2019 NEW COLLECTION - Shades of Autumn !

Please welcome our new and beautiful AUTUMN / WINTER 2019 collection: Shades of Autumn