CHIC ANTIQUE DENMARK
When the past creates the future!
CHIC ANTIQUE was founded in Denmark in 2005, and today the business is still building upon the dream of letting unique old items from the past have a new future. CHIC ANTIQUE is offering a wide range of vintage interior. The style is both unique and rustic mixed with French romance. The items vary from kitchen, bath, garden, furniture and seasonal items to textiles, all of it designed in-house.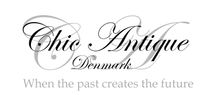 Add
News
25/01/2021 Éternel - NEW brand of self-care products by Chic Antique

Éternel is a wonderful series of self-care products - designed and developed in Denmark. Éternel is everyday luxury made exactly for you ... designed to pamper you with nourishing active ingredients and presented in a beautiful design. Every day, all the time, year round.

25/01/2021 Summer Silhouettes - SPRING/SUMMER 2021

Explore our wonderful SS21 collection - Summer Silhouettes. Our new SPRING/SUMMER 2021 collection celebrates summer's alluring colours and captivating silhouettes. The collection is overflowing with breathtaking summer decor, which exudes calmness and serenity.

20/08/2020 New Autumn/Winther 2020 collection - Reflections

We are proud to present our new Autumn/Winter 2020 collection "Reflections". Read more about the collection in the press release attached.