META[L]MORPHOSE®
Meta[l]morphose® Big In Miniature. Small things become BIG when they're made with passion.
Your favourite item in a scaled-down yet detailed version. Pocket-sized to take everywhere with you and see it (almost) come to life. Meta[l]morphose® surprises with high-quality 3D keyrings, bookmarks, fashion pins and more. Each piece is meticulously designed from concept to quality control to finished item - constantly excelling themselves on quality. Each keyring and bag charm comes with it's own gift box and quirky story saying.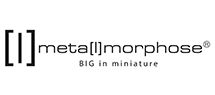 Add
News
26/01/2021 Meta[l]morphose®'s Spinner Display

Thanks to the Metalmorphose Display's limited shop space, impulse-sales value, contemporary themes and topics, Meta[l]morphose is a guaranteed rotation in most high-traffic locations. Design for everyone!

20/08/2020 GOAAAAALL

Restarting your season with a winning goal? Make sure you've got the right gear. Want to discover how to score? Exactly what Metalmorphose has to offer. Did you know, based on the 2018 & 2019 sales experience, the Rugby Ball & Soccer Shoe where listed in Metalmorphose's TOP 10? Let's have a closer look!

25/07/2020 Dogs are still man's best friend!

It's time to let the dogs out! 2020 New Collection 'Dog Breeds' just launched. Here are the first new dogs based on the first TOP 10dog breeds. Welcome to discover and find your best friend......