METALBIRD
Every tree deserves a bird! METALBIRD are trendy birds for your garden, your patio or balcony.
Just a couple of hits with the hammer is enough to attach the bird to a tree, wooden fence or window sill. The birds are made of corten steel, which is a type of metal that develops a dark brown rust-like color when exposed to the weather.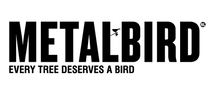 Add
News
29/11/2017 EVERY TREE DESERVES A BIRD

Do you have a favorite tree, in the garden or in front of your home? Do you have a dull fence or balcony? Let Metalbird add a touch of beauty to your life. A ladder and a hammer is all you need to create a nice spot for your own Metalbird. The bird comes in a gift wrapping, which is a cardboard box that fits into the mailbox.