DANIELA DALLAVALLE - ARTEPURA
Your essence dances in harmony with your surroundings.
This is an enchanted world, an expression of Italian art and of DANIELA DALLAVALLE's passion for filling spaces and moments with atmosphere. Love and respect for the environment are instilled in unique products. You, with your soul that is romantic one day and gutsy the next, can design your own world, reinventing it every day. Because we are a body that needs dressing and a space in which to live. With Arte Pura.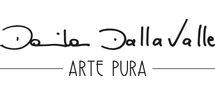 Add