DO NOT USE - VALERIE_OBJECTS
By allowing designers, architects,artists to translate their signature style into tangible objects, VALERIE_OBJECTS has become an exceptional project with one clear mission: to return aesthetic meaning to the tools and objects that we use every day.
VALERIE_OBJECTS is an Antwerp-based design label initiated by SERAX CEO AXEL VAN DEN BOSSSCH and art director VEERLE WENES. VALERIE_OBJECTS has collaborated with internationally acclaimed designers such as Muller Van Severen, Maarten Baas, Nendo, Robbrecht en Daem Architecten, D.D. Trans, TheAlfredCollection, Koichi Futatsumata, Chris Kabel, Destroyers Builders, Thomas Ballouhey and Sigve Knutson.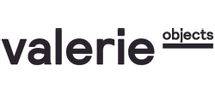 Add