PLAYIN CHOC
Excitement of play + chocolate. Organic, vegan, soy & gluten free, refined sugar free bean to bar chocolates + educational eco toy. Ethical brand / no plastic in any of our products / supporting charities.
PLAYin CHOC is an ethical, design led, organic vegan chocolate and eco toy brand. We care passionately about making delicious health conscious organic chocolate, with no refined sugars, soy or gluten - all wrapped in 100% home compostable film. Our toys are made from 100% recycled card and are creatively designed for easy self assembly and come with a strong environmental and educational message. We believe in fostering creative imaginative play.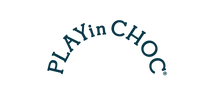 Add
Projects
News
07/09/2018 NEW ADVENT CALENDAR

PLAYin CHOC advent calendar - advent contains 24 drawers, each calendar drawer contains: 10g organic chocolate with coconut + 3D puzzle & fun facts card Once each drawer is removed, replace back to front to form a new picture which will be completed on Christmas Eve. The outer sleeve of the advent can also be opened up into a landscape to play with all 24 toys.