JOUR DE MISTRAL
JOUR DE MISTRAL, fashion jewelry brand inspired by the Mediterranean et Provence lifestyle. Exclusive designs & creations handmade in France.
It is in her native south that Mélanie Sarlin, the designer, draws her inspiration to imagine and draw each of her collections. Precious and timeless, JOUR DE MISTRAL jewels are entirely handmade in France by artisans and the designer. Gold-plated brass, natural stones, white porcelain, hand-dyed silk... all the materials that make up the JOUR DE MISTRAL jewellery collections.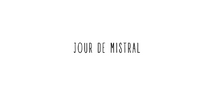 Add
News
25/06/2020 Jour de Mistral is at BHV Paris Marais

The famous parisian BHV Marais opens a new corner dedicated to the city of Marseille. Jour de Mistral jewlery are available on the corner among 30 other famous fashion brands from Marseille.