KOUSTRUP & CO
Our passion is to inspire and create awareness and knowledge about nature and gardening, through quality products with beautiful and decorative illustrations. Good quality, longlasting sustainable products, all manufactured in Europe.
Our focus is nature, garden and history and that is our passion. Nature gives us a calm mind, awareness and bring people closer together. We love living with nature and would like to share that joy with You.We are continuously developing new quality products with beautiful and decorative illustrations. We strive to bring NATURE into your home Sustainable materials are used for our products – such as organic, GOTS, öko-tex, swan and FSC paper and we safely pack your orders with respect for nature.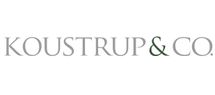 Add
News
07/01/2022 The Flower Garden collection

We are proud to present our new collection "The Flower Garden" created by Koustrup & Co. in collaboration Jim Lyngvild. Step into a wonderful world of beautiful flowers and set the scene for exquisite dinners and meaningful moments. The entire collection is made in Europe and as always, we are using sustainable materials such as organic cotton, recycled paper, Nordic beech veneer, and silk

01/12/2021 Secret Garden Collection

We´re happy to present our new collection " The secret garden". Here you can set the most beautiful and magical table. The collection is manufactured in europe and consists of trays, tea towels, table cloths, napins, and much more.

03/02/2021 Flower Garden Bed linen in organic cotton

Exclusive bedlinen set with beautiful flower illustrations. Duvet- and pillow cover is made of 100% high-quality organic cotton, which provides a soft and comfortable surface. Due to the two motifs of the bed set, it is possible to give the bedroom a varying expression. The bed set is for those who want a simple but elegant look in the bedroom.