GALLERY CHUAN
Under the concept of character CHUAN, "the bamboo creel full of the abundance of nature", GALLERY CHUAN has gathered outstanding artists to integrate art, craft and design to present a various and artistic lifestyle.
GALLERY CHUAN, gathering artists and designers, combines modern elements and original spirits to create series of collectible sculptures and home decoration providing aesthetic pleasure. With various materials, such as bronze, stainless steel and composite stones, these diverse and stylish works not only embellish the atmosphere of living space, but also present artistic taste as the best of gifts. Our artworks have been collected by "The Peninsula Hotel Hong Kong", "The Grand Hyatt Berlin", "Hotel Metropolitan Premier Taipei", etc.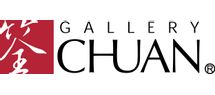 Add
News
18/01/2019 The Spring Arty Wooden Works of Gallery Chuan

Gallery Chuan launches out 2019 S/S new collection with the artist, David Liao, to let the arty wooden works adorn your space. David Liao is fond to use the scrap of wooden material to create the works. The collection, "Spring", inspired by the mountain full of blossom, combines light pink and living coral (2019 PANTONE Color) adorning with shining gold leaf, to express joyful of spring.